Menopause Behind Bars
Going through menopause can be miserable even under the best of circumstances. But for women who are incarcerated, the hormonal transition can hold unique afflictions.
Research on menopause care in prisons and jails indicates that incarcerated women do not receive the treatment that they need. Meanwhile, from 1980 to 2021, the number of incarcerated women rose to 168,449, an increase of 525%. A report from the United States Commission on Civil Rights in 2020 found that correctional facilities severely neglect the needs of incarcerated women and girls.
"Correctional establishments may have been dismissive or clearly neglectful about the discomfort associated with menopause," said former New Jersey Governor Jim McGreevey (D), executive director and chairman of New Jersey Reentry Corporation in Jersey City. McGreevey is a co-author of a recent literature review on menopause care for incarcerated women, presented at the 2023 Menopause Meeting of the North American Menopause Society.
"It is so critically important for advocates of women's healthcare to understand the unique demands and circumstances of incarcerated women," McGreevey said.
Lifestyle modifications women usually adopt to alleviate symptoms like hot flashes are largely unavailable to those in prison. For example, wearing and removing layers is not an option because incarcerated people have a mandatory uniform.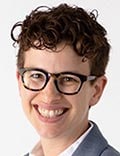 Dr Andrea Knittel
"If you roll up your pant legs or shirt sleeve then you may get a disciplinary write-up because you've modified something," said Andrea Knittel, MD, PhD, assistant professor of general obstetrics and gynecology and medical director for incarcerated women's health at University of North Carolina School of Medicine at Chapel Hill.
Among 13 studies in the literature review, McGreevey and his colleagues identified several problems in prison system medical care: Clinicians do not ask their patients about possible menopause symptoms, patients feel too ashamed to bring up symptoms, and, when they do, they are often dismissed by their clinicians. Access to medication was also an issue in one study, in which less than 5% of women received hormonal treatment for their menopausal symptoms.
But healthcare workers in prison systems and those who work with women who have been or who are at-risk of incarceration can provide their patients education to dispel fears and confusion on what symptoms indicate. They also can educate themselves on how to best care for women undergoing menopause, including associated mental health issues and symptom management.
More Education Needed
Earlier research indicated that women who had been incarcerated during menopause lacked medical supplies such as menstrual pads; reported worsening mental health, including suicidality; received punishment for emotional outbursts associated with menopause; and lacked privacy to manage symptoms like heavy bleeding, incontinence, and hot flashes.
An overall lack of public awareness about what it means to go through menopause, including among incarcerated women, means that clinicians need to reassure these patients that what they're experiencing is normal, Knittel said.
"Once they're reassured that they're not having hot flashes because they're in substance withdrawal or they're not having some other symptom because they have cancer or some other disease, they feel better. Sometimes that's all they need," Knittel said.
"Many women don't know what's going on, especially if they're continuing to have menses," said Gloria Bachmann, MD, MDS, medical director at New Jersey Re-Entry Corporation, and a co-author of the literature review. "They may wonder, Why is this happening to me, and not even associate it with menopause."
Shame is also an issue, Bachmann said. Patients might feel embarrassed to bring up symptoms like incontinence, or they may be reluctant to talk about hot flashes because of the stigma associated with aging. When combined with a lack of clinician inquiry, patients could end up never addressing their discomfort.
Clinicians may also be more focused on treating life-threatening diseases like diabetes, said Knittel. Or staff may outright disregard a patient's complaints.
"They'll say, 'What are you talking about? You're not dying?'" said Bachmann.
According to Knittel, women with worsening mental health issues may not recognize the impact of menopause. Unlike pregnancy-related mood changes, not as much effort goes into educating women on the mental health changes that can occur during this time.
The mid-life transition can make conditions like schizophrenia-spectrum disorders, posttraumatic stress disorder, and depression worse in an environment that is already far from conducive to mental well-being. Recognizing the impact of menopause on mental health can help patients get more compassionate treatment and access to the medications and treatments they need.
Advocate for Institutional Changes
Knittel said that some facilities are more open about access to showers than others are, but water temperature control isn't always reliable. Women might need to share one fan with an entire dorm room full of people with competing demands. Even getting ice requires a doctor's note.
"I think it would be very reasonable to argue that it would improve medical conditions substantially if we had air conditioning in the dorms people live in," Knittel said.
Patients might not have access to affordable, nonprescriptive treatments for insomnia, like melatonin and ashwagandha, or over-the-counter lubricants for dryness. Juana Hutchinson-Colas, MD, MBA, of Robert Wood Johnson University Hospital in New Brunswick, New Jersey, and another co-author of the literature review, said that the spotty access raises the question of whether clinicians and prison administrators hold a mindset that incarcerated people do not deserve care beyond treating chronic conditions like diabetes.
"No one is thinking about people behind bars the same way" as they are about patients outside the prison system, Hutchinson-Colas said.
The authors report no financial disclosures or sources of funding.
Menopause Meeting of the North American Menopause Society: Abstract #P-3.
Brittany Vargas is a freelance journalist.
For more news, follow Medscape on Facebook, X (formerly known as Twitter), Instagram, and YouTube
Source: Read Full Article