Herbal Combination Tames Active Ulcerative Colitis: Study
AURORA, COLO. — A combination of two over-the-counter herbal extracts — curcumin and qing dai — induced remissions in a significant proportion of patients with active ulcerative colitis (UC) in a small placebo-controlled trial.
Among 42 patients randomized on a 2:1 basis to receive either an enteric-coated pill containing 3 g of curcumin and qing-dai (CurQD) or placebo for 8 weeks, 43% of those assigned to receive the combination met the co-primary endpoint of a significant reduction in disease activity and objective evidence of response, compared with 8% of those assigned to placebo, reported Shomron Ben-Horin, MD, of Sheba Medical Center in Tel Aviv, Israel, and colleagues.
"In this randomized multicenter placebo-controlled trial, combination CurQD was found effective for inducing remission in active UC patients, including biologic-experienced patients," they wrote in a scientific poster presented at the annual Crohn's & Colitis Congress, a partnership of the Crohn's & Colitis Foundation and the American Gastroenterological Association.
Nice spice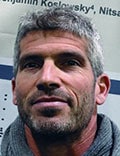 Nir Salomon
Curcumin is a polyphenolic compound derived from the spice turmeric that has been shown to have antioxidative and anti-inflammatory properties. Qing-dai (QD), also known as indigo naturalis, has been used in traditional Chinese medicine as an anti-inflammatory. Both agents are available over the counter in the United States, and have been on the market in Israel as a combination since 2016, said coauthor Nir Salomon, a certified herbalist at Sheba Medical Center.
"What we have here is a combination of these two compounds that are specifically sourced — the gut-directed curcumin, which we developed, and the specifically-sourced QD, and we use them in a specific protocol with a formulation suitable for moderate to severe disease," he said in an interview.
Mr. Salomon and colleagues in Israel and in Athens, Greece, tested CurQD in a two-part trial. The first part was a 4-week open-label study of CurQD in 10 patients with active UC defined by a Simple Clinical Colitis Activity Index (SCCAI) score of 5 or greater and a modified Mayo endoscopic subscore of 2 or greater.
Part 2 was the placebo-controlled trial described before, with 42 patients with active UC. For 49% of these patients immunomodulatory and/or biologic therapies had failed to induce or maintain remissions.
A total of 43% of patients assigned to CurQD met the primary combined endpoint of a reduction in SCCAI of at least 3 points and objective evidence of response, consisting of either a Mayo endoscopic subscore improvement of 1 or greater, or at least 50% reduction in calprotectin.
In all, 85.7% of patients assigned to CurQD had a clinical response, compared with 30.7% of those assigned to placebo (P < .001).
In addition, 75% of patients on CurQD had endoscopic improvement, compared with 20% on placebo (P = .036), and more patients on the combined supplement had at least 50% reductions in calprotectin levels (46.4% vs. 15.4%, respectively), although the difference did not reach statistical significance.
Patients randomized to CurQD had significantly better resolution of rectal bleeding by day 12 (P value not shown).
Eight additional weeks of maintenance on curcumin alone resulted in 93% retention at week 16 of clinical response, 80% retention of remissions, and 40% maintenance of clinical biomarker responses.
CurQD, but not placebo, was associated with activation of the aryl-hydrocarbon receptor (AhR) pathway. AhR is a nuclear receptor that has been implicated as a mediator of inflammatory bowel disease.
"Induction of AhR merits further study as [a] potential treatment target in active UC," the investigators wrote.
Small molecule
"This is a very promising and nicely conducted trial. Previously there are separate trials both determining potential mechanisms of action as well as efficacy of curcumin and Qing Dai separately in this population. This is a nice study that uses the combination in patients with mild to moderate UC," said Ashwin N. Ananthakrishnan, MBBS, MPH, a gastroenterology physician and researcher at Massachusetts General Hospital in Boston.
"Immunosuppressive treatments are very effective in our patients with IBD but there remains concern (particularly for patients) about the consequences of immunosuppression including risk of treatment associated cancer. Thus, there is a lot of interest in rigorous studies of nonimmunosuppressive treatments that may still be effective in relieving objective inflammation (apart from just symptomatic improvement). This study provides a nice evidence base for that. There remain multiple limitations including small sample size, potential generalizability to other populations, and importantly whether the efficacy is driven by curcumin or Qing Dai," he said in reply to a request for independent commentary.
Dr. Ananthakrishnan was not involved in the study.
"This is great work! We are also studying Qing Dai/indigo naturalis and have developed a single small molecule that works similarly to this therapy," Matt Davidson, PhD, of Azora Therapeutics in Encino, Calif., said in an online chat section of the meeting website.
In a separate scientific poster presented at the meeting, Dr. Davidson and Julie Saiki, PhD, also from Azora, reported that their company is developing a novel synthetic small molecule prodrug of indirubin, an AhR agonist derived from indigo that is purported to maximize colonic exposure while minimizing systemic exposure.
In mouse models of colitis, oral administration of the prodrug significantly reduced Disease Activity Index and weight loss similar in magnitude to the active compound indirubin, they reported.
The study was supported by Sheba Medical Center. Mr. Salomon disclosed speaking fees from various companies and has received consulting fees and has an equity position in EvNature, the manufacturer of CurQD. Dr. Ananthakrishnan reported having no disclosures relative to the study. Dr. Davidson is CEO and cofounder of Avora Therapeutics.
This article originally appeared on MDedge.com, part of the Medscape Professional Network.
Source: Read Full Article