Value-Based Doctor Revenue Still the Exception, Not Norm: Report
"Value-based" contracts still generate a low percentage of revenue for physician groups, according to the latest report on physician group productivity by the Medical Group Management Association (MGMA).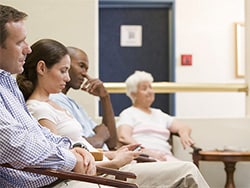 Based on 2021 data from more than 2300 organizations across a variety of specialty and practice types, the report found that value-based contracts accounted for 6.74% of revenue in primary care specialties, 5.54% in surgical specialties, and 14.74% in nonsurgical specialties.
Across all practices, the median revenue amount from value-based contracts was $30,922 per FTE physician or nonphysician practitioner, according to MGMA.
While MGMA could not provide a representative to explain this data at press time, Francois de Brantes, a payment models expert who was involved in creating and implementing such incentive programs as Bridges to Excellence and Prometheus Payments, supplied some insights to Medscape Medical News.
Based on the range of revenues from value-based contracts, he said, the contracts cited by MGMA were probably financial risk agreements. This means that the group practices were prepaid to provide care to a population of patients, or some or all of their doctors were involved in a bundled-payment arrangement.
Group practices that hold value-based contracts typically report on certain quality metrics specified by the payer they're contracting with. So it's significant that, according to MGMA, 42% of medical groups now tie some element of quality performance to physician compensation. This is far more than in 2016, when only 26% of groups tied quality performance to compensation. In 2019, 38% did the same.
Thirty-five percent of respondents to the latest MGMA survey said their groups had increased the share of physician compensation tied to quality performance during the pandemic. Two percent had decreased it, and 62% had kept it constant since 2019.
However, MGMA did not reveal the average percentage of physician compensation that was linked to quality performance. In a recent RAND study of 31 groups affiliated with health systems, only a small percentage of physician incentives were designed to improve quality or lower costs. The majority of incentives were aimed at increasing volume.
Physicians continue to be paid that way, de Brantes observes, because most practice revenue — including much of what is touted as "value-based" — is still based on fee for service.
Back to Normal for Productivity
The MGMA report underlines this productivity-driven dynamic, noting that "2021 was a return to pre-pandemic normalcy for median work [relative value units] (wRVUs), which quantify productivity while taking into account the complexity of visits."
However, the report continued, staffing shortages have created barriers to the levels of patient access that prevailed before the pandemic. Appointment availability for new patients — measured as the third-next-available appointment — increased to 8.1 days in 2021 from 6.1 days in 2020. For established patients, the wait to make a visit rose only slightly, from 4 days in 2020 to 4.43 days in 2021.
No-shows, appointment cancellations, and appointment rescheduling showed some big swings. From 2019 to 2020, no-show rates dropped substantially across all specialties, holding mostly steady in 2021.
Cancellation rates plummeted by 68% for primary care and nonsurgical specialties and by 73% for surgical specialties from 2019 to 2020. They stayed about the same for primary care and surgical specialties in 2021, but jumped from 8.3% in 2020 to 17.7% in 2021 for nonsurgical specialties.
The biggest shifts were in the percentage of appointments rescheduled within 30 days. In primary care practices, this metric jumped from 49% in 2019 to 76% in 2020, then dropped all the way down to 16.5% in 2021. In nonsurgical specialties, there was a similar swing from 2019 to 2020, but reschedulings stayed at 75% in 2021. There was an even larger rise in rescheduled surgical appointments from 2019 to 2020, but they settled at 81% in 2021.
The use of patient portals grew in 2021, with a 17% increase in patient log-ins compared to 2020. The top functions of patient portal use that rose in that year were paying bills (29% increase), communicating with clinicians and medical staff (40% increase), and filling a new prescription (59% increase). The other major use of portals was to access test results.
As the use of patient portals increased, so did the amount of time it took staff to respond to online requests. The average amount of time to perform this function rose from 24 hours in 2020 to 48 hours in 2021.
Length of Time to Post Charges Grew
Practices reported that it took longer to post charges in 2021 for third-party payment from the time a patient was seen than it took in 2020.
For primary care, the amount of time required to post charges rose from 3.8 days in 2019 to 5.2 days in 2020 and dropped to 5 days in 2021. For both nonsurgical and surgical specialties, the length of time to post charges took almost twice as long in 2020 and nearly three times as long in 2021 as it did in 2019.
The percentage of practice claims denied on first submission dived in 2020 for all three types of specialties, compared to 2019, but returned to around 8% in 2021, about the same as in 2019.
An MGMA Stat poll from November 9, 2021, suggested that nearly half of medical practices experienced worsening days in accounts receivable (A/R) throughout 2021, while 37% said it stayed the same and 15% reported days in A/R decreased through that point last year.
Among the biggest challenges in A/R aging were a lack of office staff to work outstanding balances, questionable denials of claims, and delays in reviewing appeals, MGMA said.
Ken Terry is a healthcare journalist and author. His latest book is "Physician-Led Healthcare Reform: A New Approach to Medicare for All."
For more news, follow Medscape on Facebook, Twitter, Instagram, and YouTube.
Source: Read Full Article